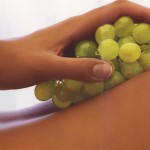 Mathilde Thomas conceived the idea of developing skin care products from wine making residues as a result of a chance meeting with researchers at the Château Smith Haut Lafitte winery which had just been bought by her parents. She and her husband launched Caudalie in 1995 and their products are now sold in more than 44 countries.  To give their products wider reach, in 1999, they created the first Vinotherapy Spa in the world near Bordeaux.

Vinotherapy consists of various spa-based treatments such as massages, wraps, soaks and cosmetic treatments, which are wine based. For example, a merlot bath is a soak involving red wine, warm water, herbs and oils. The theory behind the treatment is that grape-seed extracts contain polyphenols that are as beneficial in caring for skin as a glass of red wine is in keeping cholesterol levels under control. The treatment is now offered at top hotels in various international locations.
Spa Index has some additional North American listings in its vinotherapy section.