If a wine is made in Ontario, you can acquire it directly either by visiting the winery or by buying it at one of their stores. Many Ontario wineries are located in the Niagara-on-the-Lake region. However, there are an increasing number in Prince Edward County, and some in the Lake Erie and Pelee Island region.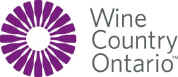 For detailed information on Ontario wineries, start with Wine Country Ontario which is managed by The Wine Council of Ontario, a non-profit trade association for the wine industry in Ontario. The site is a comprehensive resource for Ontario wine including regional overviews, specific information for each winery including special events, local cuisine, route maps, day trip, and vacation information.
For geographic locations, check out Ontario Wineries. Also,Vines Magazine has regular profiles on Ontario wineries.