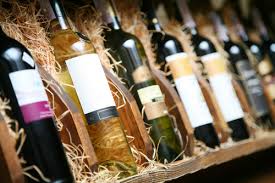 Suppose you discovered a fabulous wine as part of an idyllic overseas holiday and you want to acquire a case for future consumption in Canada. One option is to bring it back as part of your checked luggage however quite apart from the excess baggage fees, and assuming that the contents don't break in transit, this will be very pricey. See Personal Importations by the LCBO and WineLaw for further information. Also, if you acquire the case early in your holiday and you are travelling in summer, the wine is not going to keep very well. Your best bet is probably to ask if the winery has an agent in Ontario and then order it when you get home.
If that doesn't work, you could explore using the LCBO's Private Ordering feature under which you can order a wine that you discovered outside Ontario but is not available from  LCBO/VINTAGES. The LCBO will bring it over at the same time as one of their regular shipments which has the effect of somewhat reducing transportation costs however, according to them, the cost is still typically three to four times the retail price in that country and the process can take up to six months.
I think it is probably uneconomic to order only one case because the transportation costs are relatively fixed and will be too much per bottle. If you can form a syndicate and get up to five or even ten cases, the cost per case might be more reasonable.  If you have a good relationship with an Agency and if the wine is 1st class, they might work with you in expediting its procurement.
The final option is to set up your own agency. If you want to explore this possibility, I highly recommend Steven Trenholme's course entitled "Importing Wine, Beers & Spirits For Pleasure & Profit. Steven is a 30 year + veteran of the Canadian beverage alcohol industry. Refer to his website for further details and the date of the next seminar.
If you want to get a better understanding of the importing process and the challenges faced by the agencies, read this excellent article by Michael Pinkus. I guarantee you'll end up shaking your head.