I consider the following three books as essential for the budding wine lover. Try Amazon or Indigo if you want to purchase one or more:
The World Atlas of Wine: Hugh Johnson and Jancis Robinson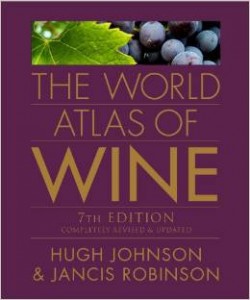 The World Atlas of Wine by Hugh Johnson and Jancis Robinson is published by Mitchell Beazley and is considered to be the most essential and authoritative reference work on the world of wine. It pioneered the use of wine-specific cartography to give wine a sense of place. It is one of the most popular books on wine, with the most recent seventh edition published in October 2013.
The new edition details developments in climate, technique and fashion as well as new regulations made over the last six years.
A new Australian map highlights the importance of cool-climate regions as global warming takes effect, for example, while dynamic regions such as coastal Croatia, South Africa's Swartland and Ningxia in China are covered for the first time. The world's increasing appetite for wine is matched by a growing thirst for knowledge, which this book will amply satisfy.
Jancis Robinson: The Oxford Companion To Wine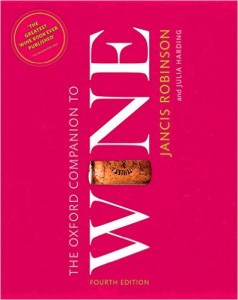 The first edition of this book was published in 1994 and immediately attained legendary status. It has won every major wine book award including the Glenfiddich and Julia Child / IACP awards. It has almost 4,000 entries on every wine-related topic imaginable, from regions and grape varieties to the owners, connoisseurs, growers, and tasters in wine through the ages, from viticulture and oenology to the history of wine.
All technical terms are fully explained, and the hundreds of useful drawings and photographs illustrate key processes. The entries range from brief questions and answers to fascinating longer essays on the intricacies of wine scoring, wine aging, and the nuances of judging a wine's colour, aroma, and flavour.
The fourth edition was published in 2015 and incorporates the very latest international research in presenting over 350 new entries on topics ranging from additives and wine apps to WSET and Zelen. Over 60 per cent of all entries have been revised. Useful lists and statistics are appended, including a unique list of the world's controlled appellations and their permitted grape varieties, as well as vineyard area, wine production and consumption by country. The Companion is illustrated with almost 30 updated maps of every important wine region in the world and contains many useful charts and diagrams, and 16 stunning colour photographs. The Companion goes beyond any other wine book in offering an understanding of wine in all of its wider contexts (historical, cultural, and scientific) and serving as an exhaustive point of reference into which any wine lover can dip and browse.
Michael Broadbent's Wine Tasting?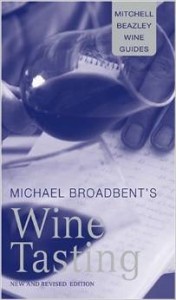 Michael Broadbent is a renowned authority on wine tasting and old wines. This book is an award-winning classic and demystifies the complex subject of wine tasting for beginners and experts alike. Few experts are as skilled as Broadbent on this topic and he ably guides readers through the first principles of tasting, providing detailed explanations of the influences of grape variety, soil, and climate.
Every aspect of the elements that affect a wine?s appearance is covered. In addition, he summarizes the regional characteristics and vintages of each country. Finally, he provides detailed tips on organizing tastings, as well as on storing and serving wine.